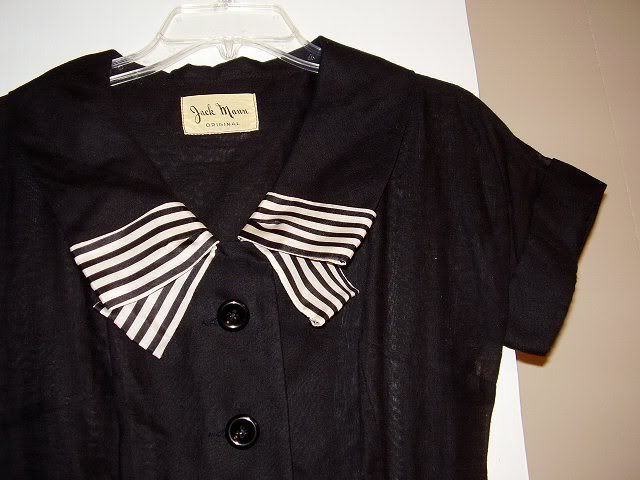 See, it's so cute. It's black voile (probably a cotton/poly blend) with a wide, long pleated skirt, short, cuffed kimono sleeves and a wide collar with a black and white striped bow. Designed by Jack Mann, apparently (I couldn't find anything about him on the internet, except that he made a lot of cute dresses from the 50s, 60s and 70s that are selling for about $30-50 on etsy).
Anyway, this dress looked like a piece of crap when I found it. The bow was fraying (I tucked it under and slipstitched it shut), it had a one-inch hole in the side of the bodice, and it had no buttons. After working for a few hours, though, it's all better now. :) I also moved one of the snaps about an inch so that it would fit me in the waist. XD They were about to fall off anyway... I stole the buttons from a project I'm working on now, so I'll have to go and get some more just like it later. The buttons were $.75 apiece, so the dress was probably more like $4.50 altogether. I have some vintage buttons but they were too ugly to put on this dress. XD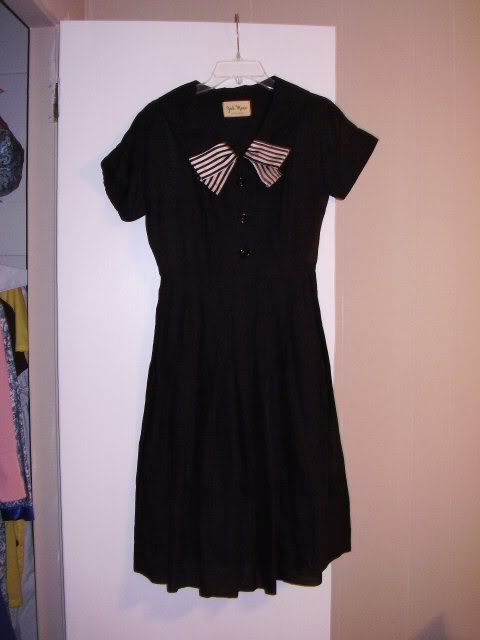 Here is the full dress, hanging on my closet door. The hem is ridiculously long, like four or five inches.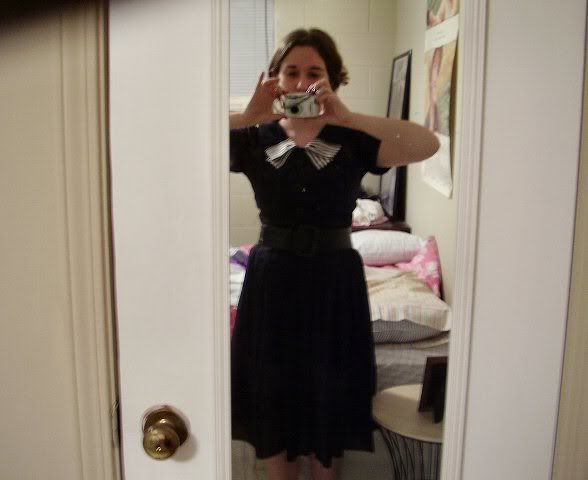 And here is the dress on me. Bad photo, but the best I could get under the circumstances. The dress obviously at one point had a belt, because it has belt loops, so I am wearing it with my leather waist-belt. I think this is my new LBD.
This is only my second vintage thrift store find (maybe I'm not so good at it??), last year I bought a London Fog raincoat from the sixties that is white, blue and yellow plaid for $10. It's really cute, but a little big for me.
I decided to stop into the thrift store a little bit today to see if they had any vintage sewing patterns. Well, I did find one, but I also found the cutest little black dress from the sixties (I think, it could also be from the fifties...) I just had to share my joy with the world. :D
Current Mood:

ecstatic