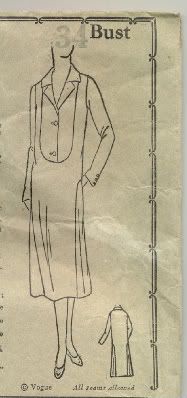 IT'S MINE! For $22 plus shipping. So I am very happy tonight. And it even has the side gores as I wanted... so I'm already thinking how I can use this pattern to make almost every 1920s dress I want. It can't be hard to modify.
So now this is the oldest piece in my rapidly growing vintage pattern collection. I should really open an etsy shop to sell all of the ones I pick up at thrift stores that I don't really want...
Anyway, I should go do my homework now.
Yay! I finally found a 1920s vintage pattern that was cheap enough and attractive enough for me to actually want to buy. Its a size bigger than I usually get, but I've seen very few labeled in my size, so I don't know if they had pattern ease back then...
Current Mood:

pleased