If you just want to add me so you can watch my icons, I don't mind. I don't add people back, though, unless they comment.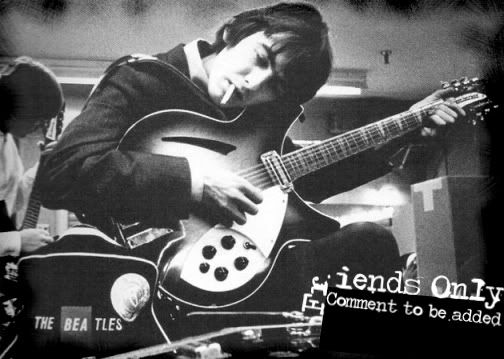 At first my journal wasn't friends only, but I've posted links to it in so many places I'm now a bit worried about who is reading my stuff. So, comment and I will probably add you if we have an interest or two in common. :) And, of course, my icons and such are still public.
I've got a new blog where I'll be posting information about my writing, as well and book and manga reviews. If you have a wordpress, I'd love if you followed me there.
Current Mood:

thoughtful
ten years ago!

Anyway, just a heads up so that you won't go, "who is that strange person on my friends list?"
I've just changed my username to "waxesnostalgic" which I use everywhere else. I was getting kind of tired of it being different. I haven't used "tabbycat5" anywhere for quite a while and as I started using it as a screen name back when I was thirteen, about
Current Mood:

relieved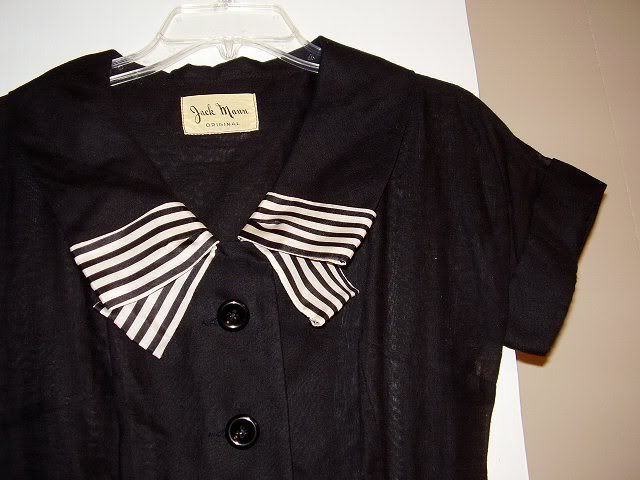 See, it's so cute. It's black voile (probably a cotton/poly blend) with a wide, long pleated skirt, short, cuffed kimono sleeves and a wide collar with a black and white striped bow. Designed by Jack Mann, apparently (I couldn't find anything about him on the internet, except that he made a lot of cute dresses from the 50s, 60s and 70s that are selling for about $30-50 on etsy).
Anyway, this dress looked like a piece of crap when I found it. The bow was fraying (I tucked it under and slipstitched it shut), it had a one-inch hole in the side of the bodice, and it had no buttons. After working for a few hours, though, it's all better now. :) I also moved one of the snaps about an inch so that it would fit me in the waist. XD They were about to fall off anyway... I stole the buttons from a project I'm working on now, so I'll have to go and get some more just like it later. The buttons were $.75 apiece, so the dress was probably more like $4.50 altogether. I have some vintage buttons but they were too ugly to put on this dress. XD
(
More pictures behind the cut
Collapse
)
I decided to stop into the thrift store a little bit today to see if they had any vintage sewing patterns. Well, I did find one, but I also found the cutest little black dress from the sixties (I think, it could also be from the fifties...) I just had to share my joy with the world. :D
Current Mood:

ecstatic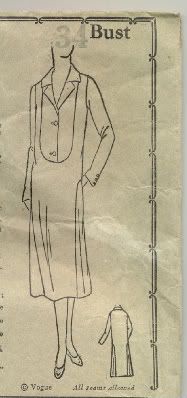 IT'S MINE! For $22 plus shipping. So I am very happy tonight. And it even has the side gores as I wanted... so I'm already thinking how I can use this pattern to make almost every 1920s dress I want. It can't be hard to modify.
So now this is the oldest piece in my rapidly growing vintage pattern collection. I should really open an etsy shop to sell all of the ones I pick up at thrift stores that I don't really want...
Anyway, I should go do my homework now.
Yay! I finally found a 1920s vintage pattern that was cheap enough and attractive enough for me to actually want to buy. Its a size bigger than I usually get, but I've seen very few labeled in my size, so I don't know if they had pattern ease back then...
Current Mood:

pleased
I made a plushie pattern, and since they are so small I can post it on here. :) It's a fan plushie of Bovril, from Scott Westerfeld's
Current Mood:

creative
I don't mind requests on the friends only banners. If you've got a pic that you'd really like to get made into a friends only banner, I don't mind making it. Mind you, I'm not exactly the best at it. :)



(
A Feast for the Eye
Collapse
)
So, I finally got it together and put together a decent batch of icons. We've got some vintage fashion magazines and Beatles icons. I also made a few friends only banners of the Beatles, since people seemed to have liked those.
Current Mood:

busy
It's all behind the cut, because its a bunch of really big photos and I don't want to clutter up anyone's friends page.
(
Behind the cut
Collapse
)
My sister took these photos almost a year ago, and I've been meaning to post them for a while somewhere on the Internet, but didn't. So I guess that today is a good day to do it... on LJ. I think I posted my first sewing project on here, but I've sewed quite a lot since then. Anyway, this is only what I sewed from July 2007 (thereabouts) to about March 2008 (that's even more of a guess). I've got about as much that I haven't taken pictures of yet... I'll maybe put that up later.
Current Mood:

accomplished
[70] - Terry Pratchett's
Hogfather
[21] - John Keats



(
Read more...
Collapse
)
[36] - The Beatles
Current Mood:

worried about finals
[41] - The Beatles
[30] - 1960's pattern envelopes
[12] - Joe Anderson


More icons for you. :) More of the same, I guess, though.
(
Now with extra Ringo
Collapse
)
Current Mood:

tired